Tomorrow will be our last home game of the year. Waukena Wildcats will be hosting the Palo Verde Tigers in baseball and softball. All games will start at 1:00. There will be a snack shack open in the afternoon. Mañana será nuestro último partido en casa del año. Los Waukena Wildcats recibirán a los Palo Verde Tigers en béisbol y softbol. Todos los juegos comenzarán a la 1:00. Habrá un snack shack abierto por la tarde.

Reminder - Monday morning we will start two weeks of an alternate one bus run. Bus pick-up and drop-off times may be differnt than normal. Students were sent home with notes indicating the approximate pick-up and drop-off times for the next two weeks. Also, there will be more students than normal in the walk/pick-up line, so please use caution and patience when dropping off and picking up your students. Recordatorio: el lunes por la mañana comenzaremos dos semanas de un recorrido de autobús alternativo. Los horarios de subida y bajada del autobús pueden ser diferentes de lo normal. Los estudiantes fueron enviados a casa con notas que indicaban los tiempos aproximados de recogida y entrega para las próximas dos semanas. Además, habrá más estudiantes de lo normal en la línea para caminar/recoger, así que tenga cuidado y paciencia al dejar y recoger a sus estudiantes.

Its time for CHOICES registration for the 23-24 school year! If you are interested in having your child/children join, or continue in our after school program (CHOICES) click the link below to view information. For English
https://5il.co/1sn98
For Spanish
https://5il.co/1sn9b

Happy Marvelous Morning, Waukena Community! Thank you so much for your support in attending the Annual Pancake Breakfast yesterday! This fundraiser helps our 8th-grade students be able to attend the yearly 8th-grade trip. Thank you, again! Mr. Cooley, Principal

Please join us for Waukena's Annual Pancake Breakfast this Sunday, April 16th. Proceeds will support the 8th Grade class and their graduation field trip. Tickets are available at the door. Plates are $10 and include eggs, bacon, and all-you-can-eat pancakes. Breakfast will be served from 7am to 1pm.

Reminder! Parent Club meeting tomorrow, April 12th at 4pm. All parents are welcome and encouraged to attend! Reunion para club de padres manana 12 de Abril a las, 4pm Todos los padres son animados a irl!

Welcome back from Spring Break! School resumes Tuesday, April 11th. We will have an exciting day tomorrow with our School Spirit Week! Tomorrow after lunch will be a School Spirit Rally! Dress-up days are as follows: Tuesday-Waukena Colors, Wednesday - Flower Power, Thursday - Tie Dye, and Friday is Pajama Day! We look forward to seeing everyone join in Waukena School Spirit!

Parents/Guardians, it's not too late to register for FREE April Classes through Fresno States Parent University!! Simply open your cellphone camera, point it at the QR code attached to this message to click on the link that appears on your screen. You will be automatically directed to the registration page! Fast and easy! Classes begin the week of April 17th.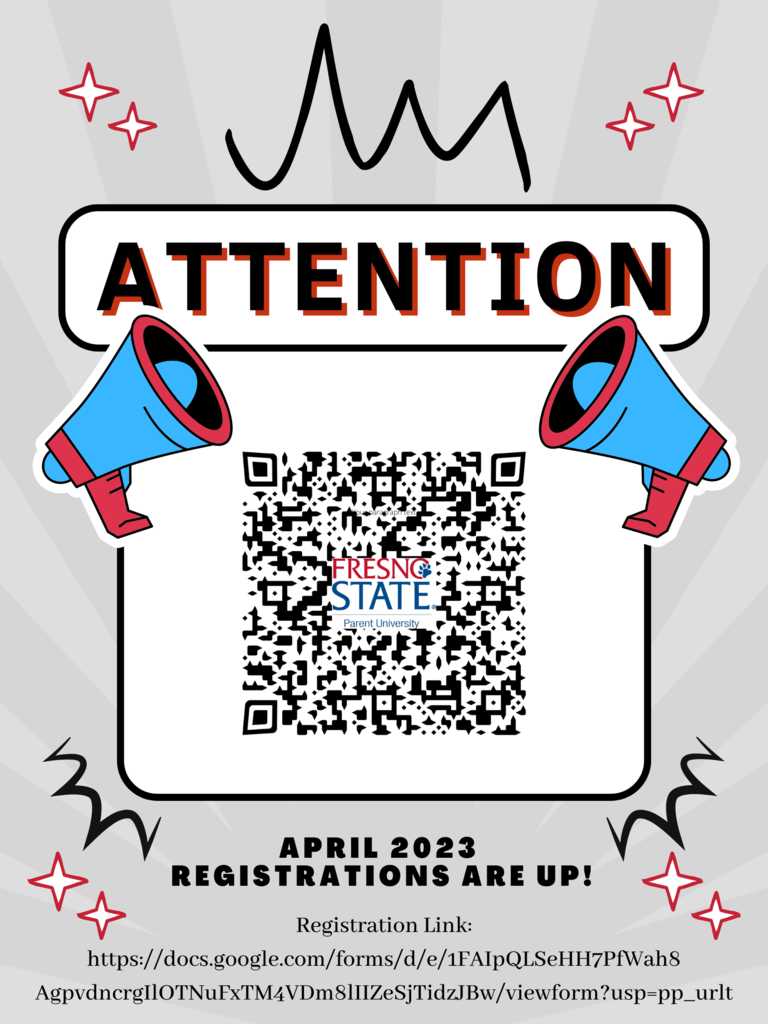 Next Week is Parent Conferences. Monday through Thursday (March 13th - 16th) all students will be dismissed at 1:30. Friday, March 17th will be a regular day, with dismissal at 3:15.

CHOICES afterschool program has been cancelled today. Students who ride the bus, will go home on the bus. Students who are dropped off, need to be picked up at 3:15 dismissal.

Spread the word!! Registration for Transitional Kindergarten AND Kindergarten is NEXT week!! Mark your calendars and get your documents together now! We cant wait to meet our new upcoming students!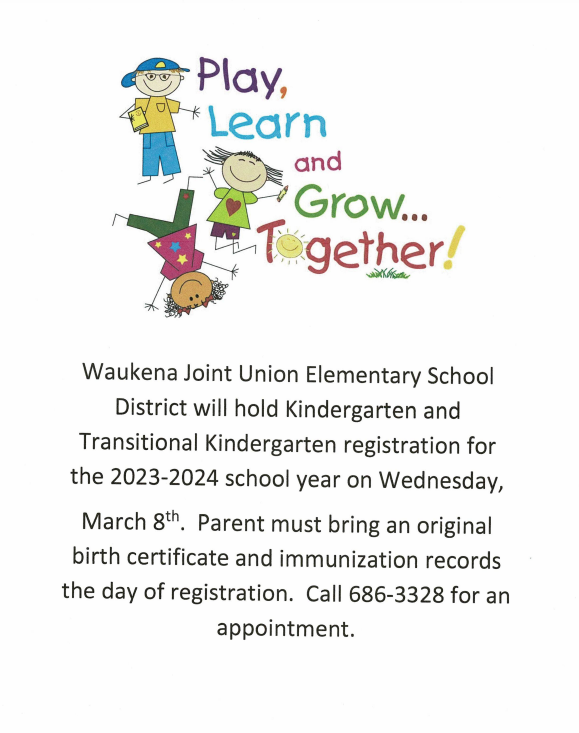 Family and friends of Waukena! The 8th grade class will be selling Pancake Breakfast tickets starting today! Tickets will also be available for purchase at the door! Familiares y amigos! ¡La clase de octavo grado comenzará a vender boletos para el desayuno de panqueques HOY! Compra el tuyo con anticipación o en puerta en la mañana del.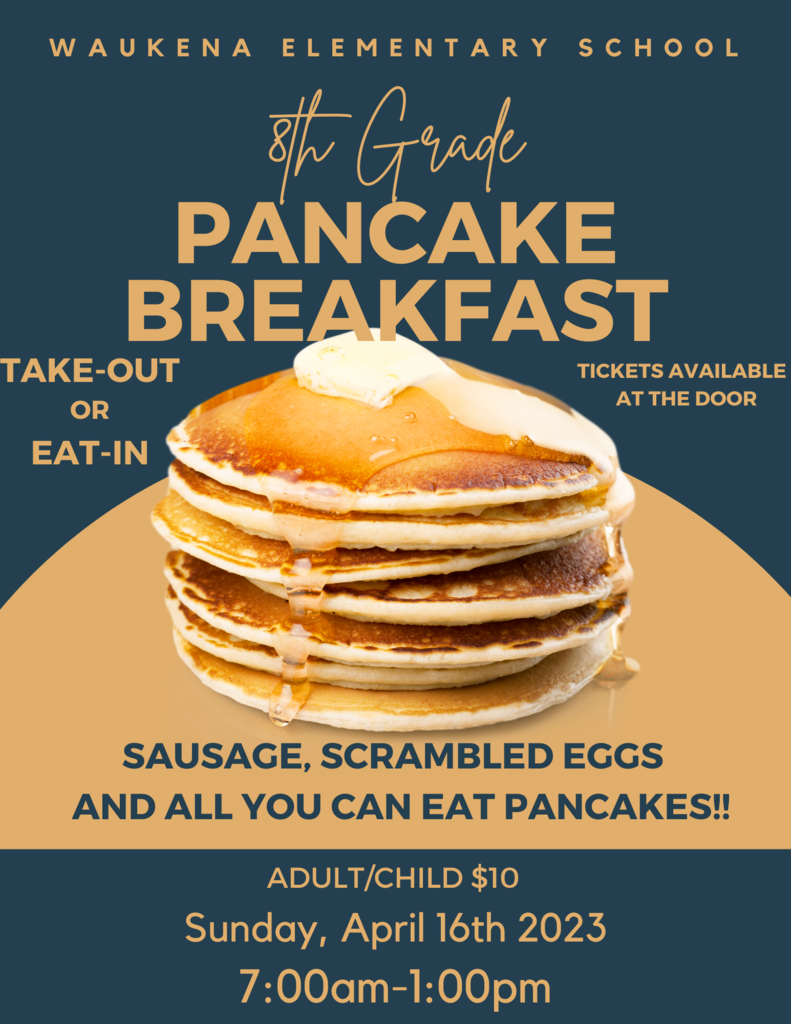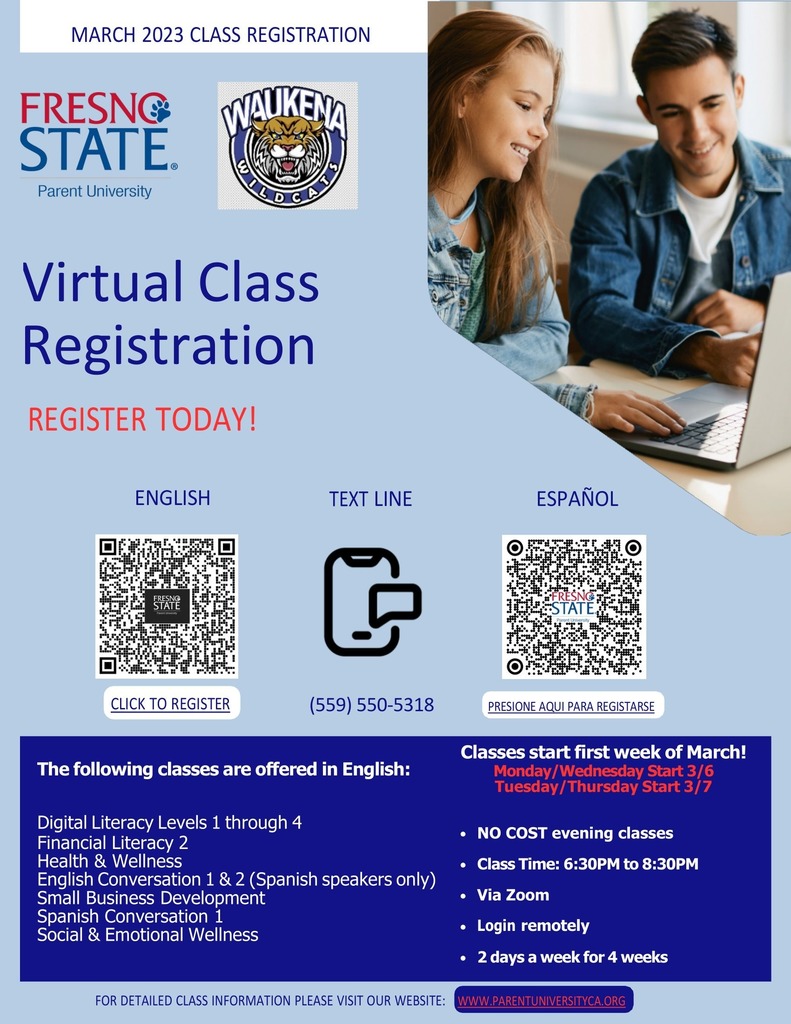 Fog Delay today, Plan A. February 10. Instruction begins at 10:30. K Dismissal at 2:30. 1-8 Dismissal at 3:30.

Tuesday, February 7th. Fog Delay Plan A. Instruction begins at 10:30. K Dismissal at 2:30. 1-8 Dismissal at 3:30.

Great news from Book Blast!! We have our first winner for the Treasure Chest stuffed with cash. Congratulations to todays lucky winner! Remember everyone, there's still time to complete your Treasure Map assignment, start earning books, earn all 3 cool rewards and be entered into the drawings for the Treasure Chests stuffed with cash and the iPad!! Simply register online and enter 10+ people by tonight who are willing to support you in growing your home library! Anyone having trouble completing their assignment online is welcome to send their student to the library for hard copy.

3:30 Dismissal today Grades 1-8 and 2:30 for T/Kindergarten. Due today being a fog delay on a minimum day, school is extended by fifteen minutes.

Good morning. Plan A Fog Delay for Tuesday, January 31. School Instruction begins at 10:30

Plan A Fog Delay for Friday, January 27th

Good morning Waukena School Community! Welcome back to school on this rainy day! Please be safe on the roads. There is a quite a bit of flooding around the road and curbs. Please be patient and cautious for our student's safety. Have a Marvelous Monday!